A convenient site
Un environnement favorable garantissant une vie confortable
La région est très riche en matière première d'origine agricole et arboricole. en plus du savoir-faire et sa réputation pour l'huile d'olive et les amandes. notre objectif est de concevoir un projet emblématique qui puisse rayonner par son échelle urbaine et surtout apporter à amizmiz une valeur ajoutée dont elle aspire tant. le site est directement relié à la petite ville d'amizmiz grâce à la faible distance qui les sépare. ainsi. cette liaison spatiale nous pousse à nous interroger sur le type de relation à entreprendre entre le 'site' et 'amizmiz' pour en faire un projet structurant de la ville. en accordant un intérêt à l'urbanisme de cette region et en créant de nouvelles polarités afin que cette dernière puisse réintégrer la charte urbaine du territoire national. malgré les efforts déployés par les autorités publiques face aux déficits du marché de l'emploi et des segments urbains de manière générale (habitat. vrd. transport. équipement, loisirs...) nous espérons, a travers ce projet. atténuer le monopole des grandes villes qui restent largement attractives.
Site climate data
Solar radiation

5,8 kWh/m2/day
Temperature

• Max temp: 37 °C (July - August)
• Min T °: 2 °C (Dec - Jan)
• Avg temp: 15.3 °C
Humidity

• Low: 19% (June - July)
• High: 52% (December)
Rainfall

• 423 mm (min in Jul – max in Apr)
A significant contribution
A significant contribution to the region's urban and socioeconomic plans
Use friendly energy construction materials in order to ensure natural comfort.
Create job opportunities for the local population :

Tourism : Sports, hiking tours, horse riding, climbing…
Crafts : Pottery, embroidery, jewellery, carpets & rugs.
Agriculture : Gardening, beekeeping, breeding, medicinal herbs
Art : Revive regional folklore, theatre and culture
Information and training : workshops with regard to the environment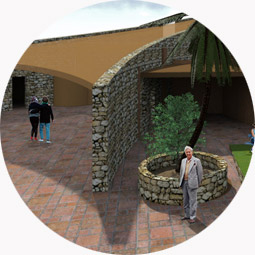 Noble objectives
Confront climate change and enhance peoples quality of living by adopting earthen construction methods, intelligent energy and water resources management so as to preserve our ecosystem.
Contribute to national strategies on environnemental matters, renewable energies and energy efficiency.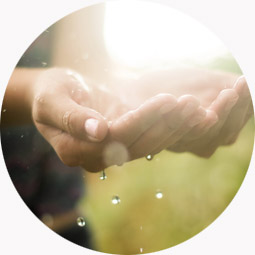 A sustainable and duplicate concept thanks to three dimensions :
The environmental dimension aims to preserve, improve and protect the naturel resources.
The social dimension aims to meet the human needs and fulfill the goals of social equity and solidarity among current and future generations.
La dimension économique qui permet de développer la croissance et l'efficacité économique à travers des modes de production et de consommation durables.
Perspective
Medium & long-term perspective
Convince promoters, architects engineers to adopt this innovative sustainable development concept
Make Taayoush city a showcase
Valorize the assets and the impacts of these ecological initiatives
Shed light on the solutions and the progress achieved by MOROCCO vis-a-vis climate change